Art of the Title is a site without peer in its niche and is considered an authority on title design in film, TV, video games, and beyond, with a loyal, social readership, and high industry credibility and participation. It is run by a small team of editors who put a great deal of care and time into research, interviews, writing, editing, and general industry championship.
To help us maintain the quality of the site and articles we publish each week, we encourage companies to connect with us for feature sponsorship opportunities.
Sponsors we have worked with in the past include: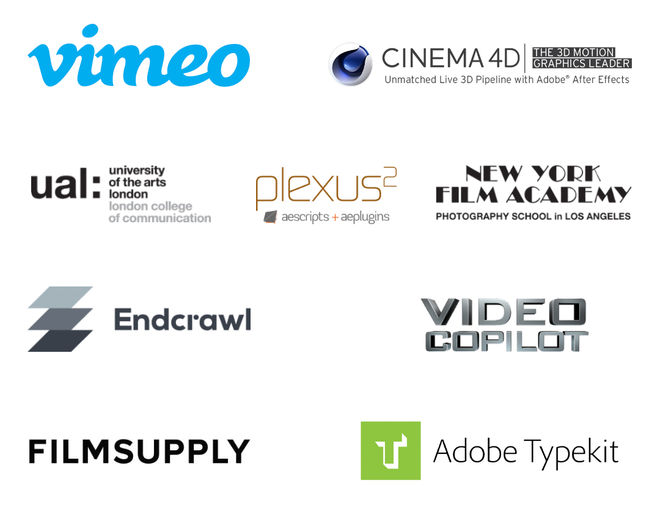 OUR READERS

The Art of the Title readership is technologically savvy, on-trend, and highly engaged. It is comprised of industry leaders, creative professionals, and motivated aficionados including filmmakers, designers, managers, directors, journalists, writers, artists, students, and dedicated fans of media. Our readers are creatively driven, motivated to discover and share, and very well connected via social media.

For an idea of the kind of access to this readership and the brand exposure sponsors receive, please see the numbers below.
GET INVOLVED AS AN ARTICLE SPONSOR
As a feature sponsor, your company or product logo, link, and description will appear on a feature/article page as well as the main Art of the Title page and /titles archive. We work closely with sponsors to determine which features are most relevant for their company or service to ensure optimal reader interest and ROI. We eschew the standard ad format in favor of genuine partnership – pairing our inspiring content with sponsorships that give back to our readers in some form, enabling them to engage and connect with a service that interests them.
Sponsorships are forever attached to the feature article. What does this mean? It means that each time a new post is published, the feature and its attached sponsorship garner a great amount of attention while it's fresh. After a time, of course, the feature will lie dormant – that is, until a reader rediscovers it and tweets about it, another feature references it, a newspaper or magazine article mentions it, we include it in a talk, and so forth, when the cycle begins again. That's what's beautiful about this kind of media: every feature has a long and varied lifespan.
Article sponsors will also receive promotional mentions on our Facebook and Twitter feeds when the article is published. These mentions are posted to a combined total of nearly 150,000 followers!
Individual article sponsorships are available for $1000.
A four-article sponsorship package is available for $3000.

BY THE NUMBERS
Social media:

In 2015, Art of the Title received:
4.1 million Pageviews
1.6 million Visits
1 million Unique Visitors
In recent months, and particularly with the increase in our speaking engagements, our readership has grown dramatically. Now's the time to get involved!
For more information and to get involved with Art of the Title, contact .