Editor
Lola Landekic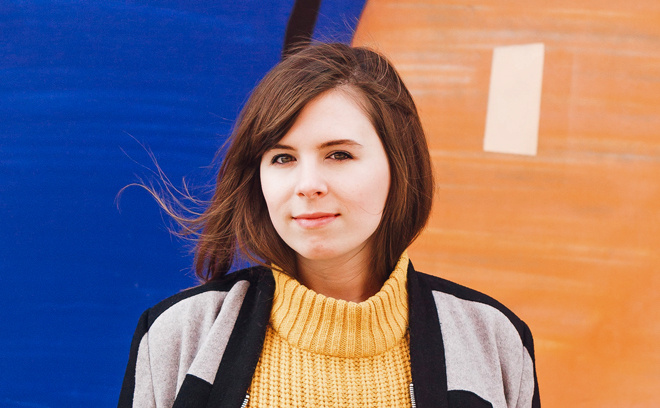 Editor in Chief
Lola Landekic is the Editor in Chief of Art of the Title, which she runs from her studio in Toronto, Canada. She is also an art director, graphic designer, and writer full-time, working primarily in film and branding.
Previously, she has worked for newspapers The Toronto Star and The Globe and Mail, publishers HarperCollins and Random House. Her writing has been published in The Globe and Mail and AIGA's Eye on Design. She has taught communication design and typography in motion at Sheridan College and has been a judge for the SXSW Title Design Competition, The Motion Awards, The Juno Awards, and The Rosalie Awards.
Lola has done speaking engagements for organizations including the Smithsonian American Art Museum, SXSW, London College of Communication, California Institute of the Arts, Series Mania Festival, and AIGA Design Conference. In her spare time, she contributes articles to Wikipedia.
Email Lola
Twitter
Speaking Engagements

If you are interested in having Art of the Title involved with your event, email .
Series Mania Forum • Opening Titles: Be Iconic or Be Skipped
Grand Palais Congress Center in Lille, France
March 2023
Typographics Conference • Intersections: Fast Times in Title Design
The Great Hall at The Cooper Union in New York City, NY
June 2022
SXSW Panel Moderation • Designing Binge-Worthy Title Sequences for TV
Austin Convention Center in Austin, TX
March 9, 2019

F5 Festival at PromaxBDA talk
Hilton Midtown in New York City, NY
June 12, 2018
Nordic Media Festival talk
Grieghallen in Bergen, Norway
May 4, 2018
Films at Smithsonian American Art Museum presentation
Thinking Made Visual — Saul Bass as Filmmaker and Title Designer
Presentation of films by Saul and Elaine Bass, plus a Q&A discussion
Smithsonian American Art Museum in Washington, D.C.
June 10, 2017
York University/Sheridan College Program in Design talk
Sheridan College in Oakville, Canada
February 3, 2017
OCAD University talk
TIFF Bell Lightbox in Toronto, Canada
December 12, 2016
Falmouth University's School of Film & Television talk
Falmouth University in Cornwall, UK
December 5, 2016
London College of Communication's School of Design talk
London College of Communication in London, UK
December 2, 2016
Brief Festival talk
Conde Duque in Madrid, Spain
October 29, 2016
FITC Conference talk
Hilton Hotel in Toronto, Canada
April 19, 2016
Special Event: In Conversation With... Dan Perri
Village Workspaces in Los Angeles, California
February 26, 2016
Special Event: The Good, The Bad, and The Oscars for AIGA LA
The Downtown Independent in Los Angeles, California
February 25, 2016
History of Motion Graphics at CalArts talk
A talk presented for Louise Sandhaus's History of Motion Graphics class
California Institute of the Arts in Valencia, California
February 23, 2016
AIGA Design Conference talk
Hyatt Regency in New Orleans, Louisiana
October 10, 2015
Motion Design Education Summit talk
O'Connell House in Dublin, Ireland
June 3, 2015
TIFF Next Wave Festival talk
TIFF Bell Lightbox in Toronto, Ontario
February 14, 2015
SXSW Title Design Awards presentation and discussion
Vimeo Theater in Austin, Texas
At the screening of the SXSW Title Design Awards Finalists, Lola Landekic and Will Perkins gave a talk which included a brief history of title design in Hollywood, the emergence of video game title design, and the possibilities of the medium. The talk capped off with an interview and discussion with filmmaker and title designer Henry Hobson.
March 9, 2014
Gamercamp Interactive & Gaming Conference talk
Ocho Hotel — Toronto, Ontario
November 3, 2013